Woikoski Feeling
Creating experiences with passion and a drive to improve
Woikoski Feeling offers a range of experiences and services in clean and unique surroundings in the lap of Finnish nature. The Woikoski Feeling establishments offer a variety of opportunities, and we are especially renowned for our service. We live on the stories provided by the colourful history of our sites, but we are also continuously creating new stories through encounters and events.
We are part of Woikoski Oy, a gas producer, and the story of Woikoski Feeling is closely linked to the history of the company. Still, first and foremost, the story of Woikoski Feeling is the story of the owner family, the Palmbergs, and their passion to improve. The mother and father of Woikoski Feeling are Sari and Clas Palmberg. The Woikoski Feeling tourism services are the result of their endless enthusiasm for learning new things while preserving old buildings and environments. The same passion has been passed on to the Woikoski Feeling staff, who are eager to learn and improve and dedicated to ensuring that our guests feel welcome.
The Woikoski Feeling establishments are full of opportunities, adrenaline-spiked activities, relaxing moments, joy and wonderful experiences. We will arrange events and occasions in a professional manner and according to your needs.
Woikoski Feeling is part of the Visit Finland's Sustainable Travel Finland Program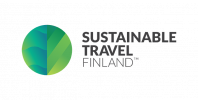 ---