Domestic tourism flourishes in summer – vacationing in Finland
Woikoski Feeling offers an amazing setting for vacationing in Finland.
Domestic tourism flourishes in summer – vacationing in Finland

Off on a summer holiday in Finland? Looking for ideas on interesting places to visit? Woikoski Feeling offers an amazing setting for vacationing in Finland. Check out our ideas for a great summer holiday and decide if you want to spend your vacation enjoying the peace and quiet, good food, great company and beautiful nature. Or are activities and adventures more your sort of thing?
Wondering where to travel or looking for a great holiday destination in Finland? With so much on offer, more and more Finns are opting to explore domestic holiday options rather than travelling abroad.
At its best, a summer holiday in Finland is an unforgettable experience full of just the right kind of activities or true luxury. Woikoski Feeling provides a perfect setting for both active holiday lovers and those looking for a peaceful and luxurious place to enjoy their time off.
Situated next to Repovesi National Park, Woikoski Feeling offers summer holidaymakers a wide range of activities, high-quality accommodation, great food and beautiful nature.
If you're still thinking where to head on holiday, we suggest you check out our services and travel tips, and enjoy a summer vacation on the border between Kymenlaakso and South Savo.

Active vacations in Finland next to Repovesi National Park
If energetic fun and activities are your thing, there's plenty to keep you busy here! Cliff abseiling, off-road biking and a range of motorised activities will add an element of speed and excitement to your holiday.
Why not try cliff abseiling amid the magnificent scenery of Repovesi Natural Park? Unless you're acrophobic, of course!
If you prefer speed over height, round up a group of four and take off with enduro bikes! Enduro safaris are organised on diverse tracks around WHD Gård in Nurmaa, and suit everyone from novices to experienced riders.
Or get behind the wheel and try off-road driving in places not accessible on foot! In addition to being highly enjoyable, off-roading develops your driving and manoeuvring skills. Fun and useful!
Our ideas and tips for active holidays don't end there. The surrounding nature offers an unbeatable landscape for cross-country cycling, which is hugely popular. Bring your own bike or rent one from us. The beautiful, gently rolling hills cater to riders of all levels.
If water is more your element, the nearby lakes are ideal for SUP boarding, kayaking, canoeing and other aquatic activities.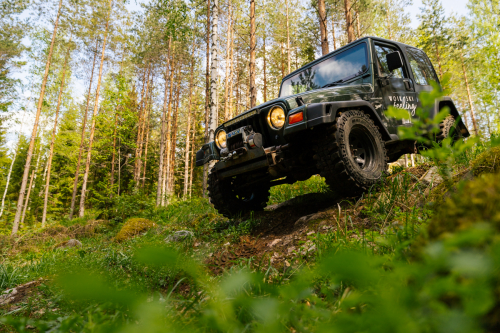 Ideas for rest and relaxation
If speed and motor-boosted activities fail to get your engine running, there's still a lot you can do. Our summer activities also cater to visitors who prefer spending their time adrenaline-free.
Those looking for a more peaceful getaway can enjoy Repovesi National Park by hiking,or try archery or disc golf. SUP boarding, canoeing and cross-country cycling can be a fun way to spend your day as well.
Pack a snack and a bottle of sun cream and head out to Lake Nurmaanjärvi by SUP board or canoe. Enjoy the peace and quiet, tune in to the surrounding nature and select the perfect cove for lunching in. A sunny summer day out on the lake – what could be better? Rental SUP boards and canoes are available from WHD Gård in Nurmaa.
If you're travelling with a group, give archery a go! It is a straight-forward sport suitable for all ages. You can get started quickly, with no prior experience required – just clear your mind and focus.
Our location next to Repovesi National Park lets you enjoy hiking amidst stunning natural scenery. And thanks to an array of accessible trails, everyone is able to enjoy the outdoors.
Car Museum and Factory Museum for museum lovers
If your summer holiday isn't complete without a visit to a museum, Woikoski Car Museum and Woikoski Factory Museum are located on the grounds of WHD Gård.
The car museum boasts a selection of 35 stunning vehicles, and is open every day in summer.
The factory museum showcases the historical development of a fourth-generation family business. Established in 1882 to manufacture lampblack pigment, Woikoski Oy has grown to become a formidable player in the gas and chemical industries.
Great food and a lakeside sauna make for a luxurious holiday
Luxury can come in many forms: quality accommodation in a beautiful natural setting, with a comfortable bed and silky linens… Food you can only dream of at home… Quality time with friends or your partner enjoying a lakeside sauna and a dip in pristine waters…
Woikoski Feeling offers you everything you need for a luxury holiday in Finland. Stay in a suite at WHD Gård or Kirjokivi Manor, enjoy delicious food in the local restaurants, treat yourself to a massage and relax in one of WHD Gård's lakefront saunas. The sauna at Kirjokivi Manor also welcomes visitors with its pleasant heat and gentle steam.
Surrounded by a truly stunning landscape, enjoying good food and great company, you can't help but relax and unwind.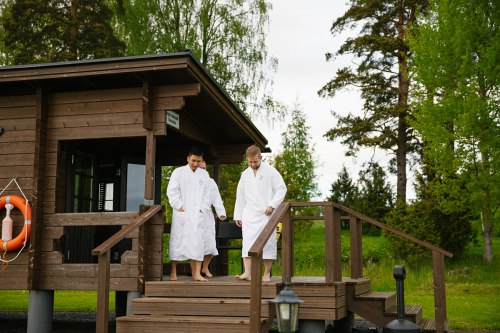 Tip for a luxury holiday: wine tasting and a visit to a beauty salon
If you want to experience some Central European wine culture on your holiday, attend a wine tasting at WHD Gård or Kirjokivi Manor.
Beauty Salon Wiehättävä is situated on the premises of WHD Gård. The pleasant, unhurried atmosphere creates a perfectly luxurious setting for relaxation. Services range from gentle facials and manicures and pedicures to body sugaring and full-on pampering packages.
Restaurants to suit all palates
For many, good food is a big part of an enjoyable summer holiday. All three of our restaurants use the best local produce to wow diners with tasty dishes and carefully selected wines.
Hilupilttuu (which is set in a stable) and Juureskellari are located at WHD Gård, while Kirjokivi Manor has its own restaurant.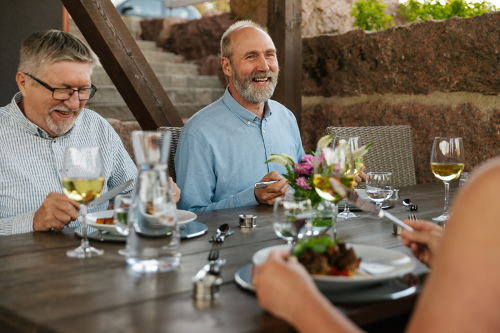 Accommodation options – more than your typical hotel experience
Where to stay on your summer holiday is the million-dollar question for many holidaymakers.
Our accommodation options range from manors to homely cottages. Our location is ideal also for those visiting Repovesi National Park, as both Kirjokivi Manor and WHD Gård are just a stone's throw away.
Kirjokivi Manor is surrounded by unspoilt nature. For those looking to combine hiking in the national park with a touch of luxury, staying at the manor is a good option. A sauna and outdoor hut tub with stunning views over Lake Tihvetjärvi add to the experience.
WHD Gård welcomes visitors to homely Woikoski Guesthouse or a suite located in an old grain-drying building.
A summer holiday you won't forget
Finland offers an endless array of unique holiday destinations. Here at Woikoski Feeling we want you to have the summer holiday of your dreams.
Our location is perfect for both those looking to enjoy the peace and quiet of unspoilt nature and those opting for an activity holiday.
You're welcome to stay overnight, for the weekend or longer. Or if you're just passing by, pop in for a meal at one of our restaurants or try the range of activities on offer.
Take a look at all our services and plan a summer holiday to remember!